Posted on:

Thursday, October 22, 2020




Affiliate(s):

Southwestern Political Science Association, Southwestern Social Science Association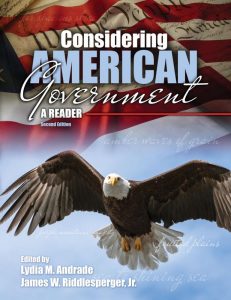 Southwestern Social Science Association Past-Past President Lydia Andrade and former Southwestern Political Science Association president James Riddlesperger, Jr., are pleased to announce publication of a new American government reader which they co-edited.  The SSSA congratulates both of these scholars and leaders on their new work.
Considering American Government is a dynamic, readable, engaging presentation of material  not traditionally covered or given a great  deal of attention in most American government books.  Each chapter provides an in-depth, sophisticated discussion of material which, when read in conjunction with a basic text would provide a more sophisticated understanding of the workings of the American Political system.  Each reading, while substantial enough to provide the basis for an in-class lecture, is written in an engaging approachable style appropriate for students to read independently.
Designed to be used as a supplemental reading, the structure of the text compliments any American Government book.   Concepts are explained both in terms of their technical accuracy as well as their use in the modern political arena.  Essays are engaging, funny, politically relevant and appropriate for student reading or as the basis for the development of lecture material.
Chapter authors were selected to contribute material based on their teaching skills.  Only the best, most entertaining, teachers were selected to participate, and each has contributed their "best lecture".  These lecture/chapters represent the topics and moments in a semester which have been proven to provide the interconnections across the various sub-fields of American Politics.  Understanding the linkages across sub-fields it the key to a sophisticated understanding of politics.
Chapters
"Graduating from the Electoral College" by Dr. Lydia Andrade
"When They Say the Issue is Federalism, It Isn't" by James Riddlesperger, Jr.
Who's That Charming Stranger with the Check? By Dr. Samuel H. Fisher III
"But They Didn't Call Me! Why Polling Works" by Dr. Adam J. Schiffer
"Polarized America" by Dr. Emily Wanless
"Don't Know Much about the Judiciary" by Dr. Joseph Stewart, Jr.
"Not Even a Good Scandal? The Power of Incumbency" by Dr. Jeff Fine
"How do you know ugly when you see it? Standards and Strategies for Redistricting" by Richard N. Engstrom
"The Speech of a Lifetime" by Dr. Richard W. Waterman
"Judicial Selection or How Do I Get to be on TV, too? The Many Roads to the U.S. Bench" by Dr. Drew Noble Lanier
"The Progress Problem in Congress: The Gender Gap in Congressional Female Political Representation One Idea for a Generation" by Dr. Jennifer Horan
"Who Gets to Have a Say in Policy-Making? A Look at Health Care Policy" by Dr. Juan Carlos Huerta
"The Supreme's Greatest Hits" by Dr. Lydia Andrade