Welcome to the Social Work Affiliate of the SSSA!
Our affiliate is comprised of social work educators, practitioners, administrators, and students who are committed to advancing research and practice in social work through innovative ideas. Our sessions have focused on social justice, diversity, higher education best practices, evidence based interventions, social movements, and a wide range of special populations, including disabilities, families, older adults, LGBT, mental health, immigrants, HIV/AIDS, homelessness, veterans, and more! We are inclusive of all relevant social work topics and invite practicing professionals, educators, and students to present at and attend our sessions.
While the roots of our association hail from the Southwest, our presenters, contributors, and attendees gather from around the world and across the country. Our association's interdisciplinary nature helps to drive cross-discipline discussions in economics, women/gender studies, sociology, psychology, history, political science, anthropology, and an international/global focus, making our conference one of the largest and most unique interdisciplinary experiences in the country.
Future Meetings
New Orleans, LA
The Monteleone
April 16-18, 2021
Special SSSA Centennial Celebration – 100 Years of SSSA!

San Antonio, TX
Hyatt Regency
April 22-24, 2022
Fort Worth, TX
The Omni
March 31-April 2, 2023
Photo Gallery 
2019 Social Work Student Travel Grant Recipient Christopher Ponce, with SSSA President Pascal Ngoboka and SSSA Vice President Israel Nandamudi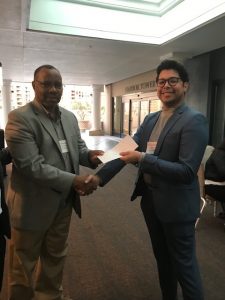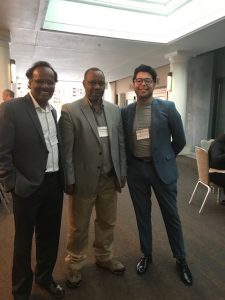 Social Workers at SSSA 2019